Birchenough, Albert Allen (1853-1912)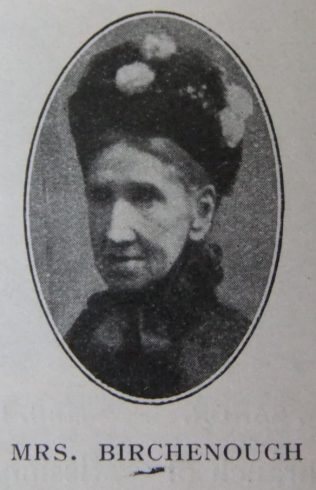 Primitive Methodist Magazine 1911
Early years
Albert was born in 1853 at Congleton, Cheshire, to parents Daniel and Eliza. Daniel worked as a silk weaver and green grocer. Albert was baptised on 27 March 1853 at St Peter, Congleton, Cheshire.
Eliza's father attended the first Camp meeting at Mow Cop. Eliza herself attended both the Jubilee and Centenary Camp meetings at Mow Cop.
Albert was converted in early youth and immediately became an ardent Sunday School teacher and temperance worker. He became a local preacher while still in his teens.
He went directly into circuit work without any college course having worked in one of the largest London printing and publishing houses.
Ministry
Albert served, in turn, as District Building, Sunday School and Equalisation Fund Secretary. When serving on the Probationers' Examining Committee he was its youngest member.
Albert wrote extensively for quarterlies, magazines and newspapers. His sole recreation was archaeological and historical study.
His obituary records that Albert's ministry was not of the popular order – he never wished it to be – but it was marked by an evangelicalism of the highest character.
Literature
Albert authored the following.
John Bunyan: the Bedfordshire dreamer
Mow Cop: the birthplace of English camp-meetings
Family
Albert married Mary Eliza White (abt1855-1937) in the summer of 1880 at Congleton, Cheshire. Census returns identify six of seven children.
Allen Oakley (b1881) – a draper's apprentice (1901)
Kate Crowson (1885-1978) – a teacher (1911)
Edith Mary (1888-1963) – married William John Musson, a PM Minister
Frederick Daniel (1890-1958)
Eleanor Emma Fanny (1892-1952) – a music teacher (1911); married Thomas Reginal Davies in 1925
John Albert (b1894) – emigrated to Canada in 1923
Albert died on 11 January 1912 at Wolverton, Buckinghamshire.
Circuits
1876 Pocklington
1877 Tetney
1879 Mexborough
1880 Winterton
1882 Dartford
1883 Crowle
1885 Talke
1887 Peaton Strand
1889 Minsterley
1893 Bedford
1895 Wem
1899 Stratford
1903 Shrewsbury
1906 Sandbach
1909 Wolverton
References
Primitive Methodist Magazine 1911/575 (mother); 1911/927; 1912/826
PM Minutes 1912/12
W Leary,Directory of Primitive Methodist Ministers and their Circuits , 1990
Census Returns and Births, Marriages & Deaths Registers